Affiliate marketing is a way of promoting products and services online using a unique link that identifies you as the referrer and pays you a commission as a result.
The main parties involved in an affiliate network are:
Product Creator
Seller
Affiliate
Consumer (or customer)
Affiliate Marketing is NOT Multi-Level Marketing
Affiliate Marketing is not a pyramid scheme nor multi-level marketing because it is used to help sellers sell real products and services. If you are considering becoming an affiliate you should carefully consider your reasons for doing it because you'll only succeed if you believe in what you are promoting or sharing.
Some affiliate systems pay low commissions and rely on their affiliates constantly "spamming" their networks with "salesy"message – which people hate! If you choose a system that you believe in you'll find it much easier to recommend it and if the commission split is more in your favour you'll actually be able to earn a decent affiliate income.
Amazon Uses Affiliate Marketing
When you see Youtube videos with presenters selling the concept of "earn passive income while you sleep" affiliate marketing is often what they are talking about. The good news is that it is real and companies like Amazon use it very successfully by paying their affiliates to spread the word about the products available for sale at Amazon.
Affiliate Marketing is Rewards-based Revenue Sharing
Affiliate marketing systems have been in existence for a long time and is one way for vendors or brands to grow by rewarding their network of referrers.
It is a popular way of digital marketing because it is designed to reward people for the effort they put in rather than simply for paying for ad space or keyword marketing.
For this reason it is best to become an affiliate for a business or product you know and use rather than just a product that someone says you can make some BIG BUCKS on.
Buy or Start an Online Affiliate Website
With so much trade going online and e-commerce growing in popularity all the time becoming an Affiliate Marketer with your own website and blog is becoming mainstream.
If you know a product or service well and can write authentic blogs that readers can relate to you can explore using affiliate links to earn extra income. It's passive income because you don't need to speak with the affiliates you refer, they just click a link.
Learn about online businesses that use affiliate marketing
How Affiliate Marketing Systems Work
affiliates,
their unique links,
banner artwork, (so you don't need to create it yourself)
commission splits,
traffic that's generated from affiliates,
payment to affiliates
The main purpose of these systems is to reward the referrer financially when someone buys the service as a result of being referred.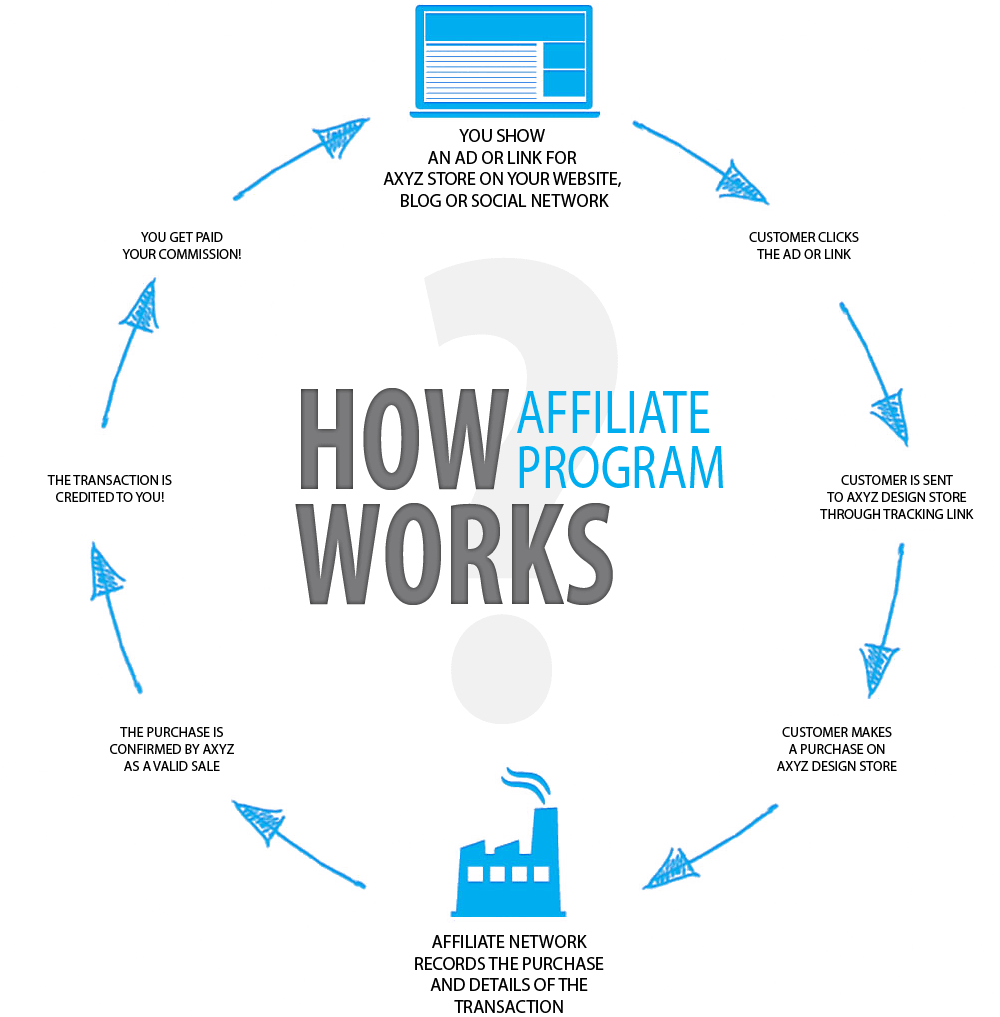 Is Affiliate Marketing for You?
If you like to help people and share information you find and you'd like to earn money working from home then affiliate marketing is for you.
The most important aspect of a successful business is to be passionate about what you do or recommend. If that sounds a bit motivated then let's reword it – you just need to believe in the product or service you are recommending. It's even better if you have used the product or service because your recommendation will be based on reality rather than just the motivation to earn a dollar.
If you have accounting experience and would like to help other people learn about the most popular accounting software programs (Xero and MYOB) you can enrol into the Bookkeeping Pro Package and earn a percentage of any sales generated at the website.
Make Money Helping People
National Bookkeeping is an established bookkeeping and training business with BAS Agents, Finance Managers and Junior Bookkeepers across Australia. Virion Digital Agency provide digital marketing services including content marketing and social media marketing and their training programs are available to affiliates also.
The affiliate course and membership will give you access to
digital marketing training resources,
commissions on online training courses in Xero, QuickBooks and MYOB accounting software programs.
commissions on online digital marketing, content, SEO and social media marketing courses
collaborative marketing activities to build your profile, brand and exposure
These are the skills that online marketers use to earn passive income and enables them to work from home.


Enquiry Form
"*" indicates required fields
The Australian Small Business Training and Support
Courses, Training and Support.
Get bookkeeping, marketing, operations, customer service, sales and finance knowledge via email. Keep up to date with new and emerging trends and technologies and get our free samples.