Microsoft Excel – Pivot tables, 3D formulas, Advanced Formulas and protection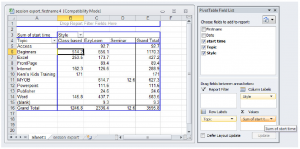 Understand how to use formulas that perform calculations between worksheets – they're called 3D formulas and they multiply the power of your spreadsheet to create scenarios, forecasts, financials and more. Learn more about how to get the information you need using advanced filter.
Learn how to create a pivot table and change the value field settings to get some fantastic statistics about your data from many different perspectives then create a pivot chart to visually show the results.
Using advanced functions like CHOOSE, VLOOKUP, HLOOKUP, MATCH and INDEX and many other advanced functions within functions (Nested Functions) will enable you to get even more information about the data you already have.
In this course you'll also learn how to protect your worksheet and workbooks so that the people you give your spreadsheets to don't destroy the hours of time you spent putting your spreadsheet together.
Included Topics:
ADVANCED OPTIONS
Task: Show the Developer Ribbon
3D FORMULAS BETWEEN SHEETS
CREATING A VARIABLES SHEET
Task: Re-create these worksheets using 3D formulas
FILTERING YOUR DATA
Exercise: Using AutoFilter
CLEANING UP A DATA FILE USING AUTOFILTER
Exercise: Cleaning up a database using AutoFilter
ADVANCED FILTER
Exercise: Perform an Advanced filter
Exercise: Advanced filter using Wildcards (search text within cells)
Exercise: Advanced Filter for multiple search criteria (OR)
Exercise: Narrow the results using Advanced Filter (AND)
CREATING A PIVOTTABLE
Task: Insert a Pivot Table
Task: Filter the data in a Pivot Table
Task: Sort Dates by Month
Test: Pivot Table
Task: Change the Value Field Settings
Project: Using the PivotTable
Project: Adding information using a function and getting total sales value
PIVOTTABLE CHARTS
THE CHOOSE FUNCTION
Task: Get month values and Choose
Task: Automatically produce ratings
Task: Choose the calculation you want to occur
VLOOKUP
Task: Insert a VLOOKUP which tells us the Isle and price of a product
Task: Perform vlookup using Named Ranges
HLOOKUP
Task: Paste Special for Formulas, values, comments and formatting
MATCH AND INDEX
Task: Find the match
Incorporate cell information in text
Task: Use Index to find the value in a matched row
NESTED MATCH AND INDEX FUNCTIONS
Task: Performed a nested MATCH & INDEX function
Task: Combine MATCH with IFERROR functions
PROTECTION
Task: Open a protected workbook
Task: Understanding cell protection
Task: Finding Cells which contain calculations
Back to Microsoft Excel Training Courses outline Enrol now
The Australian Small Business Training and Support
Courses, Training and Support.
Get bookkeeping, marketing, operations, customer service, sales and finance knowledge via email. Keep up to date with new and emerging trends and technologies and get our free samples.