Buying a business in general is a long and complicated process because you have to understand what value you are getting for your investment.
Traditional brick-and-mortar businesses which involve leasing a premises and hiring staff to keep the business open during your opening hours is a very capital intensive way to earn an income.
If you are an expert in that field it is also very possible to do exceptionally well.
Our business startup courses includes information and pricing that you need to consider to help make a more informed decision.
Why Focus on Online Businesses
We focus on helping people buy or start an online business because we are passionate about empowering business owners and our team are very experienced in online businesses. After all, the Australian Small Business Centre operated a physical centre in Sydney until we went 100% online since 2012.
Now, our advisors and support team all work remotely from home.
There are different kinds of online businesses and before making a decision on the best business to buy you need to be aware of them and reasons to choose one of the other.
These are the most common online businesses:
Online physical product sellers
Dropshipping for physical products
Selling digital products
Affiliate and advertising revenue websites
Online Businesses Selling Physical Products
Most people think of Amazon when they think of physical products being sold across the world. Other website that help people sell things online include:
Ebay
Etsy
Gumtree
Facebook Marketplace
Shopify
Some of these sites are purely for advertising or selling second hand products but they should all be considered when you begin the journey of understanding how to sell things online.
When you understand the basics you can then delve deeper to find out where to buy products cheaply for wholesale and that is where you'll focus your time and effort on these main sites:
Shopify is a software program that enables any physical business to run their own point of sale system that also translates to an ecommerce shop so you can sell your inventory online. They even have a partner program to help find "marketer" who help promote your business and earn a commission on successful sales.
Online Business using Drop Shipping to sell Physical Products
A dropshipping business is like being a reseller for an online shop. It can be something simple like promoting a range of candles made by a local manufacture where you have a website which takes the order and makes the sale and they ship the products to your customer.
The key question to be aware of in this scenario is "who owns the customer"?

If you own the customer and have the right to contact them directly and sell other things to them then you will also have the full customer service responsibility and warranty concerns – just like Harvey Norman do when you buy something from them.
Buying an Online Business Selling Digital Products
Digital products are very easy to ship because it can be via email or an instant download. Many of the products and services we buy these days are digital products, such as: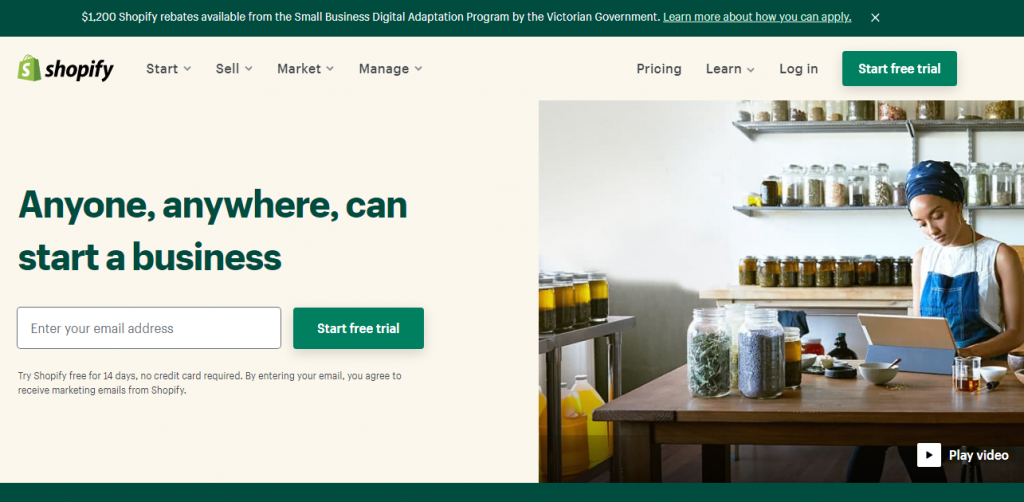 Books (Amazon),
Videos (Netflix),
Subscriptions and memberships (Xero or Melbourne Age/Sydney Morning Herald)
Online Courses
Photographs and Images
Some of these online businesses have affiliate or reselling opportunities and some of them you can do yourself (particularly photographs and your own videos or educational content).
Earn Money Using Affiliate Marketing and Advertising
If you don't want to buy and sell products (as a merchant) or take orders and run a drop shipping business then you might want to consider starting or buying a business that earns money as an affiliate or from advertising on a website.
These types of sites are usually blog sites where the website owner is passionate about a particular product or service and writes a lot of useful and interesting blog articles about it. This type of business involves signing up as an affiliate and then inserting links in your blog to products you are "affiliated with".
These type of businesses usually rely on having a lot of good quality information that buyers find useful and getting a lot of website visitors traffic.
Learn more about affiliate marketing
Advertising is similar in that you need lots of traffic and lots of reasons for your website visitors to click on the advertising on your website. Just think about Chanel 9 or 7 if this business model is what you want to pursue – these companies make most of their money from advertising and they are very good at it.
Buying an Online Business Selling Online Training Courses
We work with a team of training course creators and have a proven system where you can buy an online business which includes training and support as well as the ability to promote your own professional services.
Training courses are digital products so they are quicker and easier to deliver to customers and can be supported online from anywhere – ie. you can work remotely from home. PLUS, you'll be helping other people upskill so they can find work and also work remotely.
Watch our Introduction Video and make contact if you are interested in learning more.
The Australian Small Business Training and Support
Courses, Training and Support.
Get bookkeeping, marketing, operations, customer service, sales and finance knowledge via email. Keep up to date with new and emerging trends and technologies and get our free samples.