If you are like many business owners you probably don't pay your company registration immediately when you receive it from ASIC only to be slogged by a massive penalty if you are even a day or so late.
Renewing your Business Name or Company doesn't make you any money and it's a frustrating payment that just needs to be made so the renewal is often put aside for the day you do your accounting.
We noticed a company that appears to mislead business owners into thinking that they are the business name registry but you make your own mind up.
The Renewal notice we saw had the company name on it and the price to renew for 1 year or 3 years, a reference number and information about various ways to pay.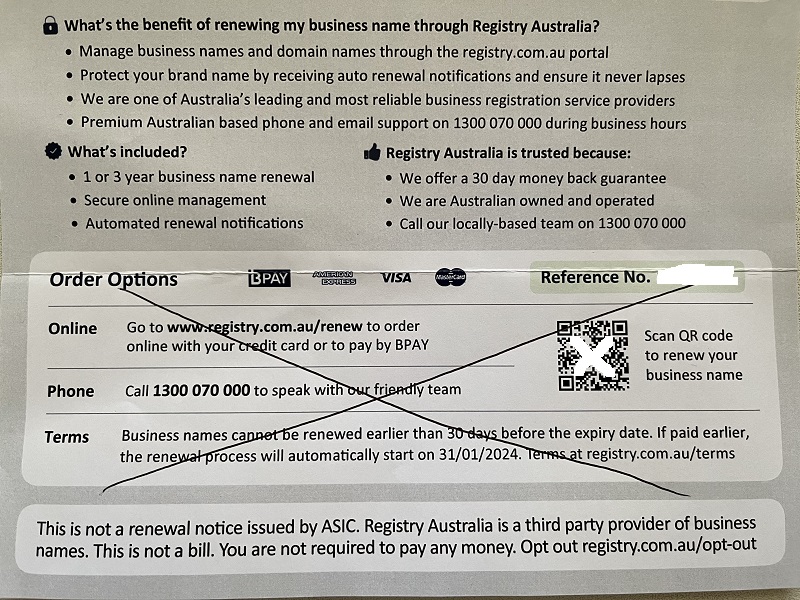 Full of Disclaimers
Business name, registered address and renewal fees of $99 for 1 year or $189 for 3 years are clearly displayed but so too are lots of interesting facts and disclaimers.
What is interesting is that all over this piece of paper are messages that alert the reader to facts about ASIC and renewals, such as:
This is not a renewal notice issued by ASIC
This is not a bill
You are not required to pay any money
Registry Australia is independent of ASIC
Business names cannot be renewed earlier than 30 days before the expiry date
So what is the purpose or "intent" of Registry Australia Pty Ltd in sending these messages via the postal system and offering renewal services and showing renewal fee?
The Career Academy's advertises heavily for MYOB and Xero courses in Australia but were convicted in their home country of New Zealand for misleading advertising.
What Registry Australia Pty Ltd appears to be doing might not be as blatant as THE Career Academy but to us the intent is to take fees for renewals.
Someone will still need to pay ASIC as there is no way around that. Will Registry Australia Pty Ltd do that as your agent? Will they represent you and act on your behalf? It opens up a lot of questions that you should consider.
Do you think it would be misleading to receive this notice in the mail?
Official ASIC Registration Fees
The cost to renew a business name is about half the price.
Domain name registration and renewal
We noticed that the cost to renew a domain name with Registry Australia Pty Ltd is $99 for a .com domain name yet with a dedicated website hosting company like Crazy Domains charge 1/5 the price!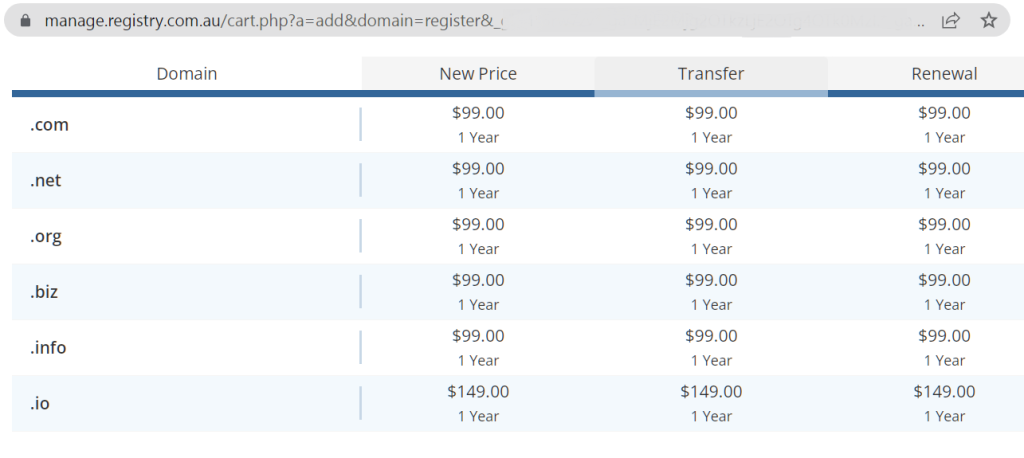 Is Registry Australia Pty Ltd providing a useful service or is it just using it's name and publicly available database information to trick business owners into using their services.
If you have come across this organisation and have mistakenly used their services please make contact with us and let us know how you went.
Learn how to start a business and avoid the traps
Learn about digital marketing, office administration, creating your own website (using Crazy Domains as your registrar) and get Xero training for your bookkeeping in the StartUp Academy Complete course.
Get the free sample training materials and inquire about our training and support if you're starting a new business.