A big challenge for many small businesses is knowing which award to use for new employees. Modern awards are complex, and keeping track of penalty rates and loadings can be a long and drawn-out process.
QuickBooks Online Payroll holds the key to simplifying award interpretation for employers and businesses with new and updated payroll integrations from KeyPay.
Using the Payroll integration with KeyPay's latest upgrade can halve the amount of time you spend on calculating payroll.
Rostering & Scheduling is becoming easier with all major Accounting software programs
It's difficult to make sure that people in a company are coordinated and working on track. And admin tasks like recruiting, onboarding, rostering and paying staff can add hours and hours to an employers workload (or that of their payroll administrator or office admin manager)
Employers can save time and money by integrating payroll and workforce management software and using employee self-service functionality.
Xero acquired Planday just like it acquired Hubdoc
Xero recently purchased workforce management platform Planday, which shows the growing importance of scheduling features in software.
Planday takes your KPIs and matches staffing needs and payroll costs to help businesses hit their targets.
Planday's self-service mobile app means greater flexibility for employers and staff to schedule, manage payroll and leave, and communicate directly.
MYOB seems to be taking a more traditional route and building rostering and scheduling functionality into their existing software. They've introduced smart rostering, attendance tracking for shift workers, and have integrated staffing, rostering and payroll.
MYOB self-service function enables workers to make shift changes, request leave, access updated rosters, and communicate with other staff.
What makes KeyPal so good?
Software programs like Xero can be used for payroll but for businesses that have more than a handful of employees, KeyPal lets you navigate from employee to employee with the click of a drop down tab.
KeyPay streamlines rostering, payroll, and timesheet management, and if award compliance is a large part of your payroll, you can easily and confidently apply rates and penalties with KeyPay's Award Interpretation. This feature automates payroll compliance, eliminating the need for any manual interpretation of work awards.
The 2020 changes to modern awards has meant greater record keeping for employers to make sure their workers are being paid correctly, and annual auditing of every employee.
Calculate awards easily with KeyPay
With KeyPay, you can install pre-built Industry Awards into QuickBooks Online, configure public holidays, rule-set period date, customise pay rates, leave and conditions, and add tags to represent specific pay conditions for certain employees.
KeyPay allows you to easily setup your employees easily with annualised wage arrangements, import employee timesheets, and quickly and easily reconcile any wage shortfalls for each employee.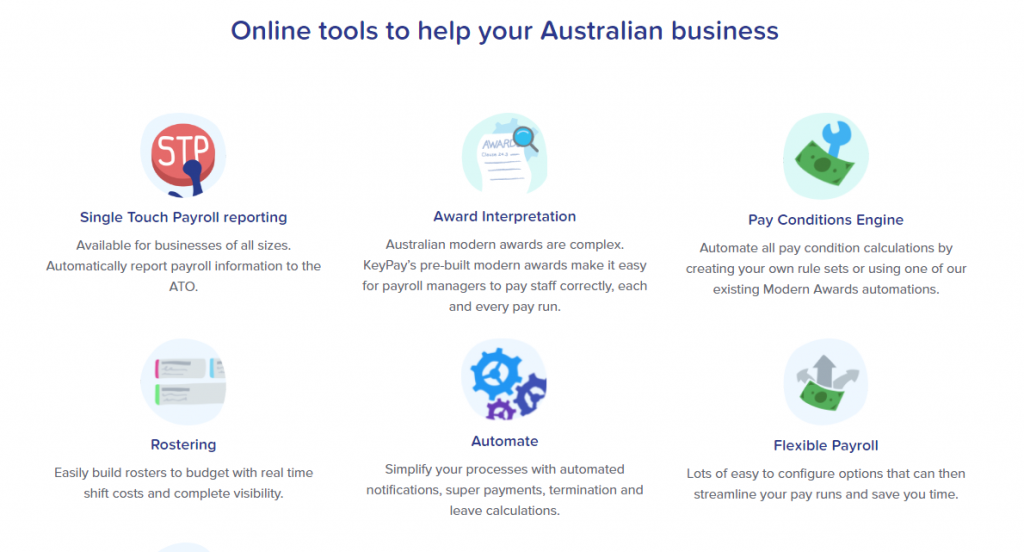 QuickBooks Online Support lists all the common industry awards and guides you through the steps to install your award or employment agreement with KeyPay.
Using KeyPay with QuickBooks Online Payroll gives employers a hassle-free way of paying employees correctly. The National Bookkeeping QuickBooks Online Payroll training course takes you from beginner to advanced in using QuickBooks Online Payroll.
After enrolling, you get ongoing access to practical exercises and case studies, downloadable training manuals, and 12 months of SMS, chat, email, and phone support whenever you need it.
If you are setting up or improving your business, upskilling your workforce, or wanting to learn better skills for a better accounting job, enrol to access the features of KeyPay and make admin and payroll easy.