Web pages and blog posts
This part of the course takes you through the Day-to-Day usage of WordPress as a blogging tool to keep your customers and potential customers aware of your company's skills and the services you provide. It also teaches you how to modify the pages of your website as you may need from time to time.
Although this might seem a simple task, one of the key ingredients in Google's search algorithm is new content so when it sees pages and blog posts that have been updated recently, it likes them.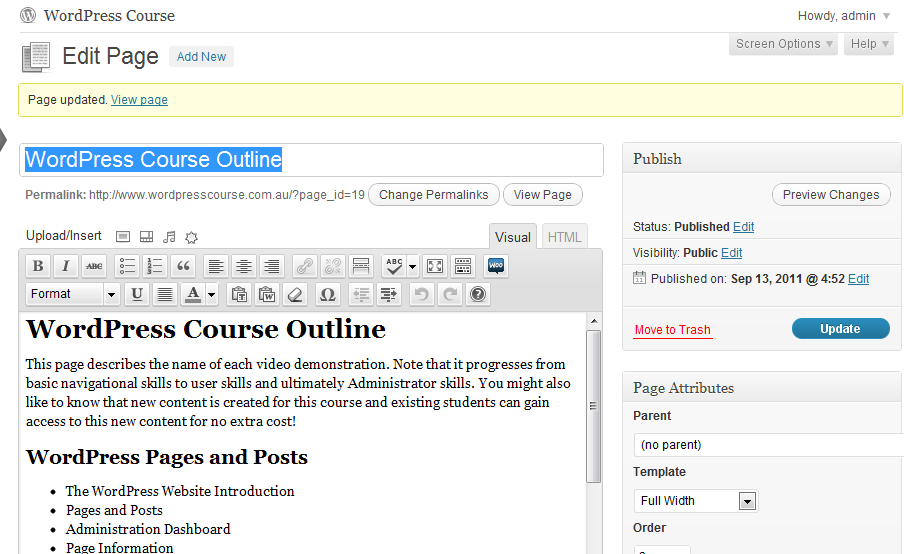 The image above shows you the screen shot of this very page being edited. You might also note that you can choose from different page templates, schedule your posts to be published in the future and much more. You might also notice that you have many common formatting choices like Styles, bold/italic/underline, centring, inserting images and other media and whole range of other customisation tools.
You'll also be thrilled to learn that some key aspects of Search Engine Optimisation are included in this course so you can make sure that the post or page you create will be indexed by search engines.
Topics include:
The WordPress Website Introduction
Pages and Posts
Administration Dashboard
Page Information
Modifying Pages
Structuring Pages
Page Order
Hyperlinks
Inserting Paypal Button code
Insert and Manage Images
Post Categories
Post tags
Blogs, Posts and RSS Feeds
Syndication gives you the power to be many places at once. When you write a blog that article can be made to appear in your readers inbox, on other websites and of course at your blog.
Google have a range of tools to help you gain exposure on the world wide web and one of these tools is called Feedburner. This tool will enable you to have your own email list subscribers attached to your blog.
Nareev Bhatt was one of Australia's top bloggers back in 2009 and he and other top bloggers like Karen Cheng use a simple website with Google Feedburner to deliver their news to anyone who wants to read it. This course will show you how to have your own newsletter using your WordPress Blog and FeedBurner.
Signup to Google Feedburner
Adding your blog to your Google Feedburner
Integrating Google Feedburner & WordPress (subscription form)
The Australian Small Business Training and Support
Courses, Training and Support.
Get bookkeeping, marketing, operations, customer service, sales and finance knowledge via email. Keep up to date with new and emerging trends and technologies and get our free samples.