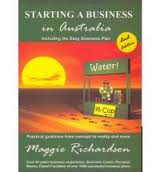 'Starting a Business in Australia: Including the Easy Business Plan' provides you with the nuts and bolts knowledge for starting and managing a business in Australia.
Maggie Richardson guides you through the sometimes hazardous process of starting the business and helps you compile the essential business building tool — the business plan.
Filled with useful information to save you time, frustration and costly mistakes, 'Starting a Business in Australia' is an easy-to-read guide to making your business idea a reality and then moving it on.
Are You Studying Business at High School or TAFE?
Maggie Richardson's 'Starting a Business in Australia' is highly recommended as school text from Year 11 upwards.
Are You Starting a Business?
Whether you are starting a new business or want to get your existing business back on track, this book will give you skills and exercises to help you get back on track and grow your business.
*** SPECIAL OFFER ***


Join the StartUp Academy Cloud Package and receive a copy of the book (limited number available), digital versions of the the book and new content, online video interviews, the partnership agreement course and template, software training courses on WordPress, Google, Facebook marketing and advertising, Social Media marketing, Xero Accounting software, online student support and mentor phone support.
*** SPECIAL OFFER ***
Has Your Bank Asked You for a Business Plan?
Starting a business plan isn't easy. It's hard to get started on a plan for a new business when there are lots of things you don't know or understand. This course and the exercises in the book give you the guidance to follow a step-by-step method to create your professional business plan.
Learn about:
Choosing the right structure — for instance, setting up a Pty Ltd Company
Business planning
Marketing
Financial planning
Costing your product or working out your hourly rate
Defining your "break even point" — the point below which you cannot go if you want to stay in business
How to research
How to set out a marketing action plan
How to record your operations processes
How to write a mission statement
How to define and achieve your goals — both personal and business PLUS much, much more…
"A GOOD CHOICE for anyone who is SERIOUS about making sure their new business SURVIVES & GROWS" — My Business Magazine — January 2003
Subjects also covered in Maggie's Book include common questions such as:
ABN — Do I really need one?
How do I write a business plan
Can a sole trader employ people?
What is the difference between a contractor and an employee?
How many trading names can I have?
What other help can I get?
Financial Forecasting — how do I do it?
E-Commerce. What does it really mean? * Websites. Do I really need one?
How do I protect my business ideas?
Networking. How can I make it work for me?
How do I work out my Break-even?
How do I set up a Marketing Plan?
What laws do I have to comply with?
and much more…
What readers say about this book. ————————————————————————————————————-
Just wanted to let you know that I've spent several years studying Business Studies in the UK and I learnt more in one week reading your book "Starting a Business in Australia" than in one year of studying Business Planning out of the set text books. The book is excellent value. You just stripped out all the jargon and got right down to business. Over the years I have spent hundreds of dollars in textbooks. Now I know I could have saved just by purchasing this easy to read and highly informative book. Thank you once again. Brian MacDonald Student: Advanced Diploma Accounting Petersham TAFE Sydney NSW Australia. Phone 9568 1128 Mobile 0413 334 258
"I've read all the business books and it always seemed so hard but Maggie makes it seem so easy — even I could do this" Phyllis of Mosman
"I'm not good at English but I can understand this book". Susie Nyuyen of Neutral Bay "
Maggie writes like she teaches — you can hear her talking all through the book" David Coote The Australian Immigration Place, Burwood
"This book is an excellent book for anyone who wants to start their own business, as it is easy to read and understand" Lorinda of Kosmic Karaoke
This book not only helped us with the creation of our own business, it took away all those stressful components associated with beginning a new business because of the jargon free way it is written. It is a constant resource tool which we use on an almost daily basis" Michelle — Bushtail Products
It is a fabulous book. which teaches me a a lot abut the local business environment and rulings. I must say that it is a very useful handbook for those people who want to start business in Australia but know little about the local environment" Lei Zhang
Thank you for making my dreams of starting my own business come true. Your book "Starting a Business in Australia" was so easy to follow and I was able to put together my own business plan. I look forward to meeting you one day. Nicole Scoulis
Learn the fundamentals of doing business in Australia. Our digital course contents are regularly updated to reflect latest industry trends and knowledge, but it all starts with the book.
The Australian Small Business Training and Support
Courses, Training and Support.
Get bookkeeping, marketing, operations, customer service, sales and finance knowledge via email. Keep up to date with new and emerging trends and technologies and get our free samples.