Your Bottom Line and Your Bookkeeper
Every business should have a good bookkeeper, who'll share their knowledge and experience, working with them. 
A good bookkeeper will show you how to use technology in combination with their services, so your business operates as productively and efficiently as possible.
A good, honest bookkeeper will also point out to you, the business owner, ways you can do your account and record keeping more efficiently which ends up saving them time, and consequently, saving you money.
Using the right cloud accounting software
The first step is to select the right cloud accounting software for your business. You may be surprised to learn that very few bookkeepers actually recommend cloud accounting software to their clients at all, with many happy for their clients to use spreadsheets to record their transactions that the bookkeeper then has to transpose into an accounting system.
This is double handling the most time consuming and tedious part of the bookkeeping process — and unnecessarily inflating your bookkeeping bill in the process.
Is your bookkeeper "double handling" the most time consuming and tedious part of the bookkeeping process — and unnecessarily inflating your bookkeeping bill in the process?
Meanwhile, other bookkeepers will recommend expensive cloud accounting systems, like MYOB, when their client would be better suited to a simpler accounting system, like QuickBooks.
A good bookkeeper will go through all the different cloud accounting software options with you and make a recommendation based on your business needs.
Add ons and integrations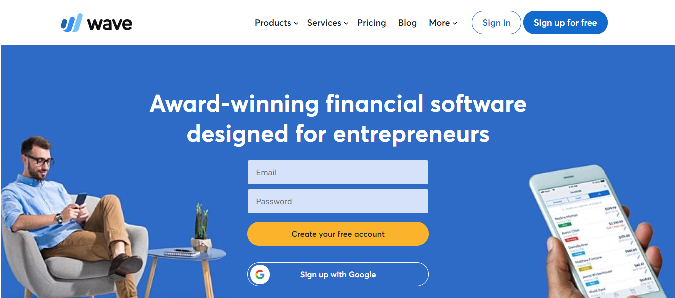 Other ways your business can become more productive and efficient is by using other technology and apps that integrate with your cloud accounting system.
For example, Wave is a free cloud accounting system with a receipt scanning feature. It lets you take pictures of your receipts and bills with your smartphone and automatically extracts the data and imports it into your accounting software.
That's super handy for businesses with lots of transactions to enter each week, but Wave doesn't allow you to generate a business activity statement. If you're registered for GST, then you'll need to file one (typically) every quarter, so your BAS agent will have to go and re-enter all this data into a compatible accounting system. Its payroll add on also doesn't comply with Australian standards.
Other supplementary technology, like the time management app TSheets, which integrates with QuickBooks, Xero and MYOB, isn't compatible with Wave.
Integrations with Xero, MYOB and QuickBooks
Some of the other popular integrations include:
Receipt scanning (AutoEntry, HubDoc and ReceiptBank)
Time Management and scheduling (Timely, Deputy)
Accounts Receivable (Chaser, uCollect)
Point of Sale (Square, Vend, Shopify)
Data entry is easy, but it can be expensive
The data entry portion of the bookkeeping process is actually the easiest part. Anyone who is good with computers and computer software can do it, but it is tedious and can take a long time. The work is
worth around $18 to $25 an hour
, but many business owners make the mistake of using their registered BAS agent for this work, who can charge between $40 and $75 an hour. Find out more about bookkeeping industry rates and how much bookkeepers should charge.
It can be tricky knowing what kind of bookkeeping professional your business needs. For instance, is a BAS agent really necessary, or should you be using your accountant more, or do you simply need a junior level bookkeeper to do a more basic level of work? A good bookkeeper will illuminate this for you. You might find that you can do a lot of the data entry yourself to keep your costs down, while your bookkeeper concentrates on preparing business activity statements and managing payroll.
***
Find a Bookkeeping Job or a Quality, Local or Remote, Bookkeeper

Visit National Bookkeeping, the online bookkeeping directory, to find a suitable and experienced bookkeeper (including a number of registered BAS agents) available to work in your area, or able to work anywhere in the cloud.
Alternatively, if you are a bookkeeper looking to expand your client list or find contract work, you can register and become part of our network for free.