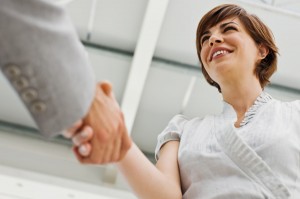 Selling is something that we all do, every day of our lives. We do it automatically for things we desire because we simply must have them and can often do what ever it takes to get it. So why are people so scared of this work?
Selling your products and services is the gateway into your business. A person is not a customer until you have exchanged money (usually) for the things that you sell and it could be the beginning of a long and mutually beneficial relationship where you and your customer both benefit. Selling is the end result of your small business marketing activities.
With marketing you:
Educate the market (potential customers) about your business and the services that it provides
You demonstrate that you are an expert in your field and how long you've been working at it
You show why people should buy from you (features)
You explain the after sales support that you offer (if you do)
You show them why they should use your service/product (benefits)
With Selling you:
Define the exact product/service that the customer is willing to pay for

How they wish to pay for it
Make the payment
Once the sale is made your Customer Service now kicks in and you need to ensure that the product or service that was ordered is delivered to the customer within the time frame and with the expected quality. This task often sits with the sales person to some extent, but it is part of the customer service area of your business.
Enrol Now
The Australian Small Business Training and Support
Courses, Training and Support.
Get bookkeeping, marketing, operations, customer service, sales and finance knowledge via email. Keep up to date with new and emerging trends and technologies and get our free samples.