Places for Coworking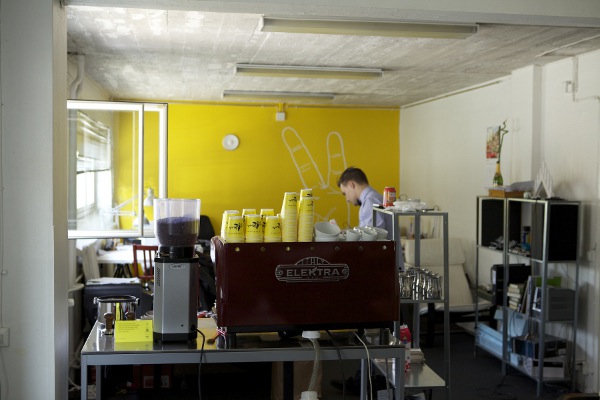 For a lot of people, working from home is too distracting. There are those who find the call of the laundry basket too great; others who may have a partner or roommate that doesn't think popping their head in and saying, "I'm not interrupting am I?" is interrupting when really it is; there are even some people who find sitting in silence at their computer all day is not conducive to productive work – because they crave distractions from the Internet or from TV. So what's a home-based worker to do?
Well, you could hotdesk at a shared co-working space, or find yourself a spot in your local library, or you could take yourself to your favourite café and work. I know working in a noisy café, with coffee machines and people and noise may seem counterintuitive for the easily distracted, but here are a few reasons why it may actually be better for your productivity.
Coworking at Your Local Cafe
There's Just Enough Distraction: Put me in a silent room and my brain will crave distraction, amusement, anything. Even when I have mountains of work to do and a looming deadline, I will inevitably find myself on YouTube. Put me in a room with only one or two other people, and now I don't need YouTube because I've got my distraction. Put me in a room, however, with a bunch of strangers, each having their own conversations – about things that are of no interest to me – with some noise from passersby on the street, a coffee machine thrown in for good measure… and my brain tunes it out. It becomes white noise. Now, I can work.
The Change of Environment Stimulates Creativity: They say inspiration comes from the most unlikely of places, and I think that's true. Often it's a throwaway comment from a friend or an experience that can spark a business idea. In order to be creative, you need to get out and experience the world, and you can't do that if you're shut in your home-office all day. Without inspiration, we get stuck in the rut of routine; we go through the motions, and there's nothing good about that.
To Meet New People: Meeting new people and networking is so important for self-employed business owners, and working from a café gives you that opportunity to meet people you might not ever meet throughout the regular routine of your life. Make sure you take regular breaks to ensure you don't burn out, and use that time to chat to the other people around. You never know whom you may meet.
+++
The key to working productively in a café, though, is picking the right one first. It shouldn't be too small or with a high turnover of customers – finding yourself squashed next to different people all the time is just as distracting as working with the TV on in your living room. But it also shouldn't be too empty, where you may feel as though the staff want you to leave – or worse, interrupt frequently to ask how you are going for food and drinks. Want to come along to one on our Small Business Meetups?
Share The Love (or Likes)
Truthfully, there is a fine art to finding the perfect work café, and we'd love to hear how your secrets to finding the perfect café to work from. Let us know your tips in the comments – or maybe you could suggest a good working café for us to try. Make a comment on our Facebook Small Business Page