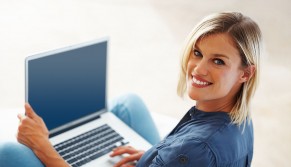 In our last post we talked to the Australian Small Business Centre's, Michelle Stone, who is currently studying our Small Business Management Course, about how she feared her competitors because she was worried she wouldn't be able to get any clients.
Finding that first client can be tough, but once you get the first one, getting the second one is easier and the third one even easier still. As your client base starts to grow, you'll find that you will have a few regulars and a few less frequent clients.
In most instances, you won't hear from those clients all that often simply because they don't have any work for you at that point and time, but it's still a valuable relationship to maintain so that when they do have something on, you're their first port of call.
Keeping the Communication Open
There are plenty of ways to stay in contact with those infrequent clients and customers — you can call them to see how they're going, drop into their office, or take them out for a coffee or lunch. Alternatively, you can keep them abreast of your services and business activities with a newsletter.
Robyn Gipters is the brainchild behind Our VIP Customer, a company that provides newsletter services to other companies that have neither the time, nor the manpower to put together a newsletter each month.
Robyn says that Our VIP Customer is about helping small businesses create lifetime customers. "We believe that keeping one existing customer is five-to-seven times more profitable than attracting one new customer," Robyn tells us.
"But often a lot of small business owners don't have the time to put together a newsletter, or they don't think they're creative enough or whatever, and this is where we come in," Robyn says.
Our VIP Customer tailors newsletters to businesses across a variety of industry, and puts together content that is both engaging to read and relevant to each business' customers.
"The trick is to provide information that is engaging and useful, but also relevant," Robyn says. For a small business owner trying to put together their own newsletter each month, that means wearing a lot of different hats and possessing many different skills.
In fact, Robyn, who has a background in media and PR, admits that even she falls into that category. "I have the gift of the gab," she says, while behind Our VIP's curtains, Robyn has a team of writers and graphic designers who help bring each client's newsletters to life.
The idea, Robyn says, is that each newsletter is interesting and engaging enough that people will hold onto it. "It could be as simple as including a recipe each month that people stick on their fridge," she says.
"It's not really about selling; it's about having a system that keeps your business at the top of your customers mind," Robyn says. "Of course, if you happen to make a sale as a result — even better!"
"It's not really about selling; it's about having a system that keeps your business at the top of your customers mind." — Robyn Gipters, Our VIP Customer
***
So if you're trying to find ways to keep in contact with all of your customers, consider putting together a simple monthly newsletter that is engaging and interesting to your customers. But that it's not about selling or pushing your products, it's about staying in contact.