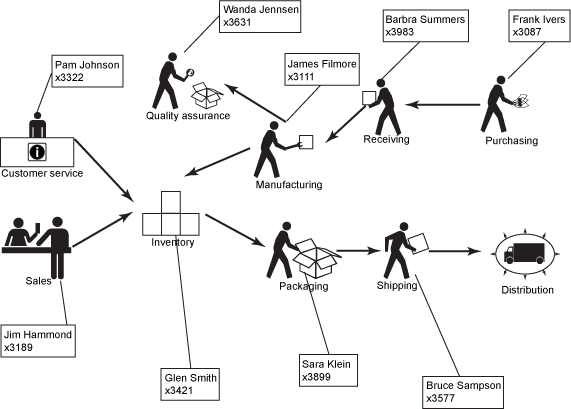 So you've got your small business off and running, but you have to continue to manage it properly to ensure profitability and cope with growth. If you want to make your business a commodity that you can sell, you also need to have systems in place. These systems then need to be communicated clearly and consistently to everyone who works in your business.
You need to have systems to manage your growth
Businesses usually require operational plans and procedures to suit the different aspects of the business. These might include
A written procedure for a process,
An outline of the key operations of the business,
An action plan for business objectives,
A customer service charter,
Some benchmarks for products or services and
A staff management plan.
You might also need to document standard operating procedures so that you — and anyone else — is clear about recurring work processes in your business and so that you can all achieve specific results and control quality.
Keep Growing Your Small Business
Knowing how to monitor and manage the operations of your small business is fundamental to quality assurance, managing risk, networking and generally growing your business. We'll help you:
Develop an action plan to provide your business with clear and coherent direction, in accordance with your business goals and objectives. Learn how to review and adjust this as your business expands and improves; to record changes; and identify opportunities for new business
Formulate a quality system for the business in line with industry standards, compliance requirements and cultural criteria; and implement a stock control system etc.
Develop performance measures, quality procedures and operational targets to conform with the business plan; including measuring business performance and customer satisfaction, and finding the solutions to any problems
Cultivate strategies for innovation; this might include drawing on existing or emerging technologies to make your business performance even better
Identify the possible risk factors that might impact your business, such as OH&S or environmental issues and how to address these appropriately
*** SPECIAL OFFER ***


Join the StartUp Academy Cloud Package and receive a copy of the book (limited number available), digital versions of the the book and new content, online video interviews, the partnership agreement course and template, software training courses on WordPress, Google, Facebook marketing and advertising, Social Media marketing, Xero Accounting software, online student support and mentor phone support.
*** SPECIAL OFFER ***
What you'll learn:
Financial Planning
As part of this subject all students will need to fill out a financial plan spreadsheet. This includes a Start-up Sheet, Sales forecasts sheet with cost of goods included, Cash Flow Budget Sheet, Profit and Loss Sheet and Balance Sheet .The second year will replace the Start-up sheet with Asset Register and then Sales forecast to Balance Sheet as before.
Two years of balanced figures are needed for competency in this unit. Where stock is an asset the stock tracker must be included in the balance. For those who have not used Microsoft Excel before we have a little tutorial cartoon and a word sheet to explain how fundamental changes are made. If you are looking for a comprehensive Microsoft Excel course take a look at our Microsoft Excel Course Outline. The spread- sheets are linked so students must be aware that typing over a '0' will negate the link. (Students are advised to keep a copy of the original Excel file in case of emergency.)
Operational Planning
Successful businesses usually document key activities in order to systemise their operations and fit activities together as a workflow process. These might include a customer service charter, some benchmarks for products or services and a staff management plan as well as documentation of standard operating procedures. As a business grows all staff need to be clear about recurring work processes in your business to achieve your projected results and for quality control.
Although the business plan outline gives 'suggested' procedures, each student will need to assess the relevance of each and replace with more targeted procedures e.g. opening/closing procedures, phone answering procedure, order taking and delivery etc.
We also look at Risk Management in relation to workplace legislation and prepare a Risk Management Strategy. This is to be included in the plan so that the business will comply with OH & S requirements.
Subject 10: Report on Financial Activities
Small Business Management Training Course Outline    Enrol Now
The Australian Small Business Training and Support
Courses, Training and Support.
Get bookkeeping, marketing, operations, customer service, sales and finance knowledge via email. Keep up to date with new and emerging trends and technologies and get our free samples.