The way people work is changing rapidly in a shift from the traditional 9-to-5 PAYG "jobs for life" to consultancy and contract gigs. For the last couple of years workforce trends have shown that freelance workers are being given more roles and responsibilities, and the reasons for starting a small business are stronger than ever.
Project Bidding websites seem to be the main method of digital marketing for these micro-businesses and one in particular was mentioned recently by the Australian Prime Minister, Airtasker.
Online Business side-hustles are accepted by employers
Even before the covid-19 pandemic became a feature of life, many people searched for ways to have a better work-life balance and do work they are passionate about or know very well.
Now that flexible work arrangements have been tried and tested, employers are far more open to having their smart and enthusiastic workers perform other jobs on the side to earn more income. This can often take the form of a side hustle or an online business.
The Workface Career Academy has created a list of the top online businesses where you can do what you know and work from home – that's called the knowledge economy.
Whether you're looking for a side hustle or a complete change in your working life, starting an online business is a good move in 2021.
It's not where you live, it's how you work
Smart businesses look for freelance workers who can do a good job in their niche rather than the best employee who live close to their office.
Outsourcing your skills, products or services to people who need them is a win-win: you get to do what you're good at for people who want it.
If you're curious or have ideas about a passion project you've always wanted to pursue, starting your own online business means you can focus on achieving your personal career goals, and you can do it from wherever you want.
Xero Training and remote contractors
Xero is the classic example of a cloud based software program that enables bookkeepers to work remotely from home for any small business in the country – or even the world.
In fact not only can you get bookkeeping work for clients anywhere you can actually earn a good hourly rate if you specialise and understand how to perform work in certain niche industries like Legal Trust Accounting, Not-For-Profits and Building & Trades.
To earn the good hourly rate job seekers or contract bookkeepers need to know how to systemise the credit management procedures of a business and know Advanced Certificate Xero features that they can implement and support in the business.
Have stable work on your own terms
A lot of people don't leave their traditional jobs because they also feel they'll be exiting a life of reliable income. But smart freelance workers, who run a small business, set their own price for their niche products or services and choose their own hours.
The demand for contractors is on the rise, so having your own small business will only become more and more attractive.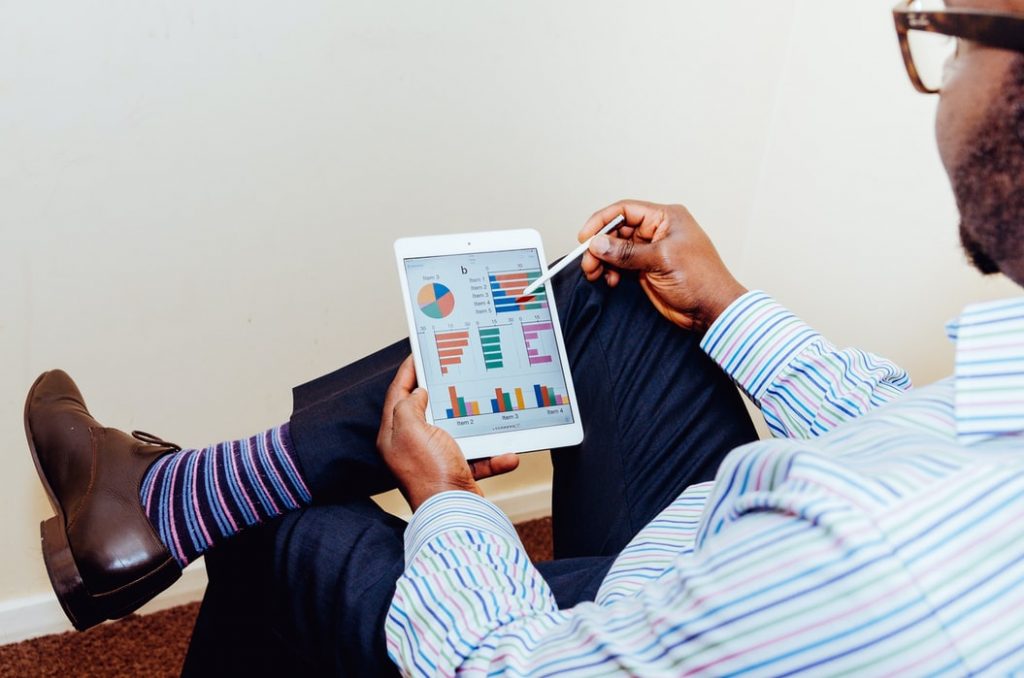 Your online business can suit where you are at in life. Whether you're:
looking to expand your skillset and experiences,
have an extra source of income,
the flexibility to work from home, or
just wanting to get out of the rat race,
virtually every industry is accepting and searching for freelance workers.
Plus, you'll have the power to define your business; who you work with and who you offer your work to. You can decide who your clients are, but even though they pay you, they're not your boss.
How you can do it all yourself – and enjoy it!
Most people lack the management and technical skills to start an online business but the "barrier to entry" is so low that it's worth giving it a go.
The barrier to entry is low because you're not dealing with:
rent payments,
phone systems,
buying products or
handling equipment
In the knowledge, gig economy everything is online so you can focus on your work with less stress.
Build a website for your business, get some digital marketing training under your belt, and spend some time and effort learning your business and clientele.
If you need help with your accounts you can hire a bookkeeper or better yet invest in good accounting software like Xero, MYOB, or QuickBooks Online, and learn how to use it with online training courses that can be flexible and offer one-on-one tutoring.
Bookkeeping Business with Marketing Support
When you enrol into the Bookkeeping Professional Training Course package you get technical and practical skills using not just Xero, but MYOB AccountRight and MYOB Essentials. You also get skills to start an online business, create a website and try some advertising to get your first clients.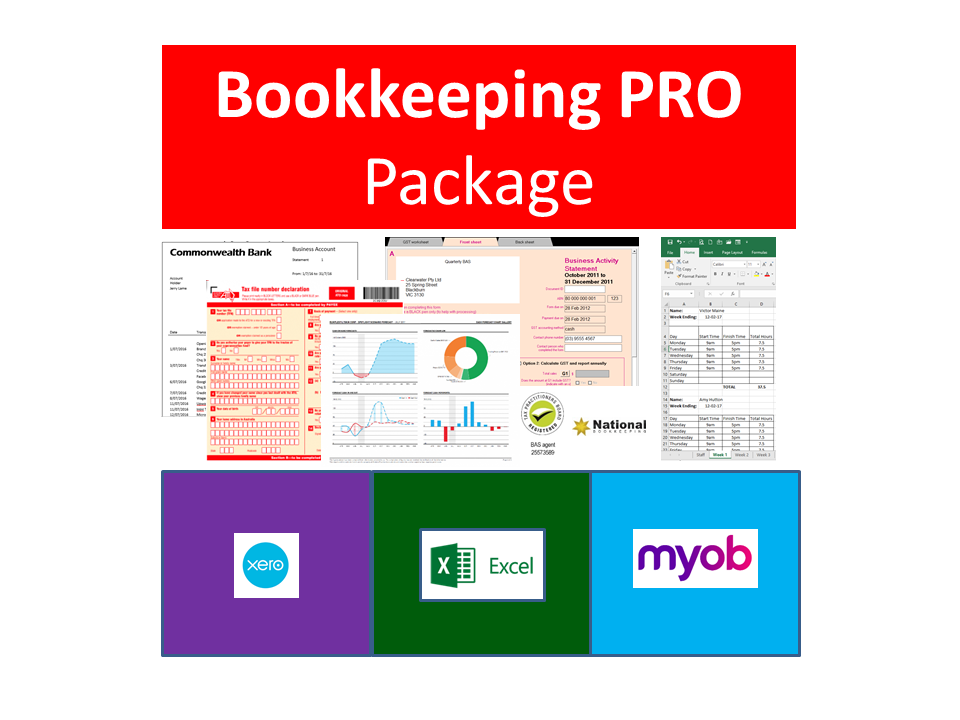 These skills are great to become a bookkeeper but the knowledge and practical experience will give you skills that clients and employers find even more valuable – a self-starter with experience, training and knowledge in bookkeeping AND digital marketing. Now that is rare and very valuable to small businesses.
The value of these skills will only increase as the gig workforce rises and more and more people seek less traditional work. The time is ripe to shift the way you work so that you love what you do.
Build your own brand not that of Airtasker or Bark
Do you want to be truly independent? One of the best ways is to build your own brand rather than those of the marketing services that throw you in with thousands of other competitors.
Services like ServiceSeeking, HiPages, Bark, Airtasker and even Upwork make you pay for either advertising, membership or lead generation fees that go towards advertising for all your competitors. They are called Project Bidding sites because they make YOU compete against many other workers who can perform the work.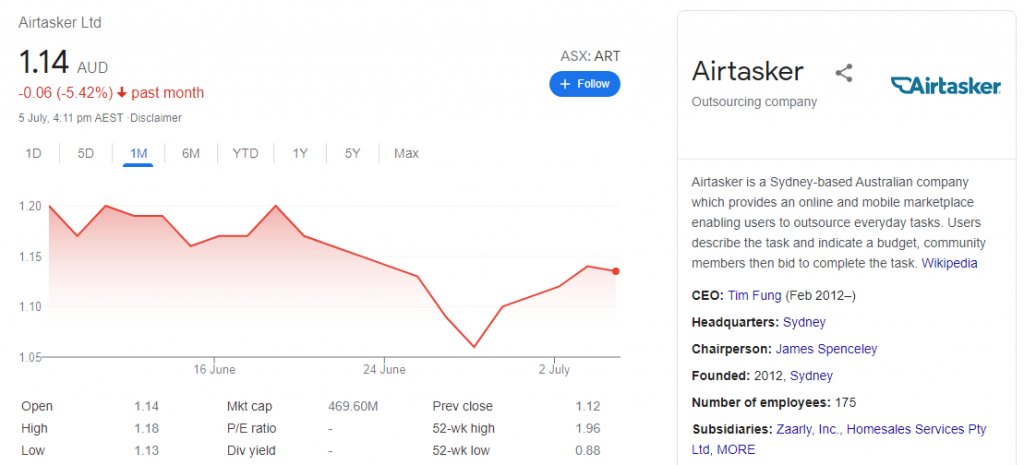 By the way, to give you an idea of just now big the gig economy is in Australia you can see Airtaskers share price because it is now a publicly listed Australian company – worth around half a BILLION dollars!
When you have your own website, a good marketing strategy and call-to-action you can use Google and Facebook to build your own brand and stand out from your competitors. It can be a smarter way to spend your money at the beginning and save on advertising in the long term