A lot of attention is being given to middle man companies that connect customers to contracting services and Bark is a relative newcomer who has a lot of money to spend on advertising to get your business!
Many of these sites are well known brands and this type of marketplace is called a Project Bidding Site – where service providers quote for contracting projects where the job poster narrows down to a short list and a final winner.
These sites are often the first place that new business owners turn to but is it really worth the cost and the effort?
Project bidding sites include:
Bark,
Airtasker,
HiPages,
Service Seeking
Freelancer
Upwork
Fiverr
These services reach out to contractors (often in developing countries where the cost of labour is low and the demand for work is high). They then promote their services (including graphic and website design, virtual assistants, bookkeeping and digital marketing) to business owners who need these services.
They earn their income by taking a lead generation fee or a percentage of the sale value.
It all seems well and good, and super convenient… on the outside. Once you've signed up to the service, there's a lot more to be discovered and a LOT more work to do.
Bark is a relative newcomer to the scene in Australia after buying SkillPages in Ireland. After announcing their plans to open an office in Australia in 2020 and expand to New Zealand, Singapore and Australia they are now aggressively advertising their brand.
Bark for Bookkeepers and Digital & Social Media Marketing
We've noticed that Bark has been very active in digital and social media marketing experts and bookkeeping services to help businesses looking for some extra help in those areas.
Here's the twist: In our trial of the service as soon as we placed an ad for a bookkeeper, Bark encouraged us (the customer) to contact the bookkeeper directly but from within their system.
It makes you wonder about the difference between Bark and a search engine like Google… you search for a service on a platform, and then contact the service provider – only with Bark you appear to encourage them to join a service so that service can earn a fee!
So, does Bark actually help you get the service you need? It's almost as if customers are doing the work for Bark to get bookkeepers to work for them!
Build your own brand or Bark or Airtasker?
You can do a lot of Bark's services on your own. Digital marketing services like website development and design, social media marketing, content creation, and SEO can be learnt in online training courses, so you have the skills without needing the middle man and spending an arm and a leg on a contractor.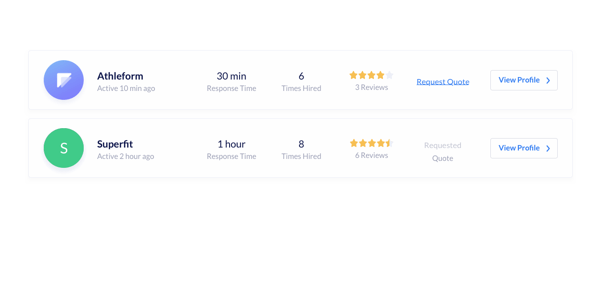 Another similar contender is good ol' Aussie start-up Airtasker, a marketplace used to outsource everyday tasks like house repairs or cleaning. As a customer on the site, contractors make a bid to complete your work, and you make a decision on who to choose based on the amount the contractor bids and a very brief description of what they do.
You know the price you'll pay from the outset, and you can see a few reviews for that contractor, but you can't actually speak directly to any of the contractors offline.
You can ONLY communicate with the contractor via the Airtasker internal messaging system, and sharing your contact details means you get banned from using the platform!
Not only is it impossible to contact your contractor directly, but their business details and websites are forbidden on Airtasker, so customers won't have much insight into the quality of work to expect. One of our team members hired someone from Airtasker to complete some basic home repairs, and they showed up four hours late and did a shocking job!
Would you rather find a bookkeeper or website designer on Google?
It's true that the lowest price doesn't always mean the best job, but how are customers supposed to make their decision without more information about the contractor? When customers can't access information about the contractors work, or inquire with them directly, all they really have to go off is the price and information put forward by the contractor or the Project Bidding site.
The fate of customers isn't promising… they have to take a leap of faith, and hope for the best, but expect the worst.
Service Seeking is mainly popular for its tradie work, and seems to be the best of an interesting bunch. You can check whether contractors are correctly licensed to perform the work, and you can contact them directly before making your decision. The company has come under some scrutiny, however, for the accuracy of company reviews, reliability of contracting leads, and the need to "chase" their contractors for service or payment. So, still a question mark there.
Apart from opaque terms and conditions, lack of transparency, and inconsistent reliability, project bidding sites offer services at prices you might pay for a one-off job with few qualms. But if you need longer-term work, and you're hiring contractors several times over, you might end up spending a LOT of hard-earned dollars.
Service Seeking says you can hire an accountant at $35-$80 an hour and a bookkeeper at $25-$60 an hour and these seem to be in line with bookkeeping charge out rate guidelines.
If you need someone to help you with data entry for quotes, invoices and purchases or end-of-month balancing and financial reporting you might need to get through a few different contractors via project bidding sites while you can vet them better by finding them using a simple Google search and then following the normal procedure for finding new suppliers.
For website design and development, social media, and other digital marketing, graphic designers could cost you up to $250 per hour on Airtasker!
Digital marketing and sales is hard for tradies
Tradies and small businesses use these platforms for their digital marketing, because it's a daunting task that can be very technical. If you're starting a business and want long-term assistance with design and development of your business branding or company logo, or someone to check your numbers and keep your finances running smoothly, you're simply better off learning the skills yourself at least to a basic level, and then finding a part-time employee or a contractor who is available when you need them.
You can build your own brand using a WordPress website and blog, understand how to use Mailchimp, go to your own Google Ads, and create a social media page to attract a following. And there are online training courses to help you do this.
The main purpose of the National Bookkeeping GOLD package is to help people start their own online business providing bookkeeping services using Xero, MYOB, or QuickBooks Online, so they can establish their own brand and do their own marketing. This way, you spend LESS and actually LEARN the skills needed to start and maintain a healthy business.
After being set-up as a Gold Member, the only ongoing fees are a yearly license fee. Bookkeepers own their own bookkeeping clients and don't pay a lead fee or a percentage of sales.
Instead of investing your hard-earned time and money in the uncertainty of project bidding sites and helping to build their brands, take charge of your business affairs and control your own business digital marketing and success.