It's no secret that Telstra are lacking quite a bit in the customer service department. In fact, it doesn't take long to find enraged user reviews about the Telstra 'expert' that never arrives on the line to help.
This blog is about the HORRENDOUS and ONGOING experience a team member had with Telstra when they switched from Telstra NBN Broadband to TPG Internet. TPG was fantastic but Telstra kept charging their $100 monthly fee for 12 months.
The first thing that TPG did was downgrade the NBN Broadband to a slower plan because the equipment in the area exchange couldn't handle the highest speed plan. Telstra asked us to use their CHAT APP and that was a horrible experience.
Telstra Customer Service was Helpful but NOTHING Happened
When you do get to speak to a consultant on the phone, Telstra usually seem helpful, friendly, and knowledgeable. When you get to speak with a Telstra consultants face to face they are fantastic and that is usually because Telstra hires great sales people and trains them well.
Yellow Pages and Sensis always had good quality sales representatives with plenty of experience in their field and very thorough training on how to sell Telstra's products. The problem in using Telstra for website and digital marketing comes down to what Telstra actually delivers and that has NOT been great in our experience.
Telstra gets even worse when you explore how they offer customer service. The biggest issue we discovered was that they didn't appear to trust their own staff so a lot of the past conversations, even using their Telstra Chat app could not be relied upon to resolve issues – you'd need to go through their authentication and identification process and explain the issue all over again, and again, every time!
Migrating away from Telstra Essentials website builder
Telstra have a website builder called Telstra Essentials but I cannot see one single reason why any smart business person would use that for their website when there are companies like Wix and SquareSpace which offer similar website builder applications.
An electrician I know was thrilled when we helped him migrate away from Telstra Essentials to a proper business quality website using WordPress.
You need a reasonably technical person who has patience and understanding to help with your digital marketing because many of those tasks are complicated to set up – not so complicated once it is.
If you need to learn about digital marketing to find work, become a virtual assistant or understand what is going on with the digital marketing for your business then enrol into a digital marketing course.
Summary of why Telstra is the last company I would recommend
Even though their NBN broadband internet plan couldn't deliver the highest speed available TELSTRA didn't tell us, nor did they offer to downgrade the fees to the highest that could be delivered
Once the existing TELSTSRA NBN Broadband service was cancelled over the phone we were still charged the monthly fee for 12 months
When we inquired again some months later by phone we were asked to communicate with an agent via their app, which was called Onelink – there is NOT AUTHENTICATION for a website chat app
To get any customer service from TELSTRA via their CHAT we had to identify and authenticate ourselves EVERY TIME
We had to ask for a copy of the transcript to be emailed to us so we had written evidence and that did actually arrive.
The monthly fee was still being deducted
The Commonwealth bank told us that

because we used a credit card the only option we have is to cancel the credit card

and get a new one – not practical when other honest companies fees are paid regularly with it
We considered going to the Telecommunications Ombudsman – is that really how far any person has to go, even when they have a transcript in writing, to get a decent Customer Experience from TELSTRA?
Went into a Telstra shop and sat there with a sales consultant for 45 minutes to resolve the issue. He said that the payments should stop, but we had to wait in the shop for a while to be able to get confirmation of this in writing.
The written evidence from Telstra of our visit to the shop and the outcome was a

line of text with a SUPPORT ISSUE number printed on a blank sheet of paper

(no letterhead, no other evidence to even suggest it came from TELSTRA)
Received an Email message from TELSTRA to say that a refund of over $1000 will be paid

Five months later NO refund has been paid for fraudulent deduction of fees for services NOT being used
AND, all of this happened JUST because we terminated a broadband service that we had for 5 years. That is the SADDEST customer service experience I can possibly share and it is shameful.
Telstra Sales Centres Have No Choice but to help
Months later, the $100 has stopped being deducted every month but there is NO INFORMATION about the $1,000 refund for overcharging.
Even an in-person visit to a Telstra store to get a case number and confirmation of refunds didn't do the job. Our team member quickly changed their mind about Telstra!
This anecdote represents the frustrating experience of many Telstra customers… you might be free to report an issue, but there's no guarantee you will ever be helped.
This begs the question of whether people stay with Telstra not because of a lack of alternative networks but because they wait for the support they think is coming!
What does GOOD Customer Service look like?
Virtual Assistants with good training on the latest technology and customer service procedures can help small businesses anywhere in the country for a low weekly fee and do a MUCH better job.
The Career Academy from Workface has been teaching students how to use technology to up-skill to find work or do better in their current job for over a decade.
The online Virtual Assistant business training and marketing package helps anyone with office admin, marketing or bookkeeping become a virtual assistant and choose their own hours, working remotely from home.
Free review and advice… will it cost you your patience?
Countless online reviews from outraged Telstra customers shed light on empty promises made by the company. Our team member was sent a confirmation that their account was cancelled only to find the dreaded $100 bill two days later.
Customers might be facing yet another empty promise from Telstra with the company's free consult on how to improve your business digital marketing strategy.
It takes two days for customer requests to disappear completely from Telstra's communication logs (evidenced by an email saying "this case has been closed"), so as far as trust is concerned, it seems tough to build with Telstra.
'Free' doesn't always mean free
The lure of a free digital marketing assessment might be enough to sway your mind about Telstra, but it's important to keep in mind that the solutions Telstra give are probably going to be their own services… including their customer support!
If you want more help after your free consult, you have to book a store appointment and wait for a call-back or call Telstra directly… sound familiar?!
Create your own digital strategy that's truly local
Telstra's free service pitches its local support team to help businesses, but how local is local? Australia's business landscape has changed immensely over the last couple of years and keeping track of local trends is vital to a successful small business.
Many Australians who run their own small business online manage their own operations, digital marketing and clientele.
Without having to worry about overheads, equipment, and inventory, you can focus on your small business digital strategy at your own pace. It's easy to build a website for your business and learn how to tailor your messages to your audience.
Workface Career Academy's online business training courses and digital marketing courses provide practical tasks and video tutorials that will give you the skills to confidently run your online business.
With mentor support and unrestricted access to training materials, you can gain the knowledge you need to make the best decisions for your business.
Breaking News! TELSTRA promise investors that they are working on Customer Experience with T25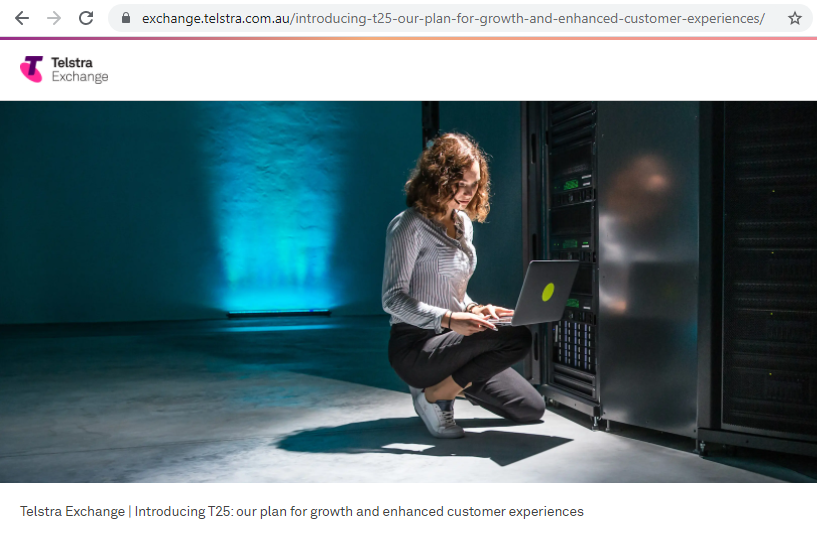 Andy Penn, TELSTRA CEO knows there is a Customer Service issue at Telstra but does T25 mean that it will take 4 years to sort that out?
We found this article in Google News, alongside the other Business related articles. Did Telstra have to pay to advertise a message to show investors that it is trying to fix a major issue.
Our suggestion to you Telstra is to use Email and SMS. It is authenticated and there is an audit trail of everything that has been said, every promise that is made and every problem that a customer experienced.
Other companies, smaller and larger are using Email and SMS communications tools very well, particularly TPG and it would eliminate a LOT of frustration from customers.
Stop using the TIO (Telecommunications Industry Ombudsman) as your final stage of support administration.